Services
Our services
hosting on our servers

free updates during the year.

we can create your bookstore website, given your graphical wishes.

with or without online payment

formation
Online catalog
Our online catalog is a ready-to-use solution to publish your stock on the internet and allow clients to browse your shelves, see your selection and the bookshop's new entries. They can reserve books with a simple basket system.
This is how the default theme looks:
With our associates, we can develop your own website with your own graphical theme. You'll get:
static pages (welcome page, contact, etc)
a "blog" (optional)

we can automatically publish new articles to Facebook and your mailing list.

an interactive widget to see your books selection and the new entries
a search field
everything is responsive (works for computers, tablets and smartphones)
you have access to visit statistics, respecting the GDPR reglementation (no cookies banner to click)
As an administrator, you get:
an administrative panel
the possibility to export accounting reports of your sells

with the right VAT applied to books, other products and shipping costs.
Here's an example of a simple website (no online payments): librairie Le Blason.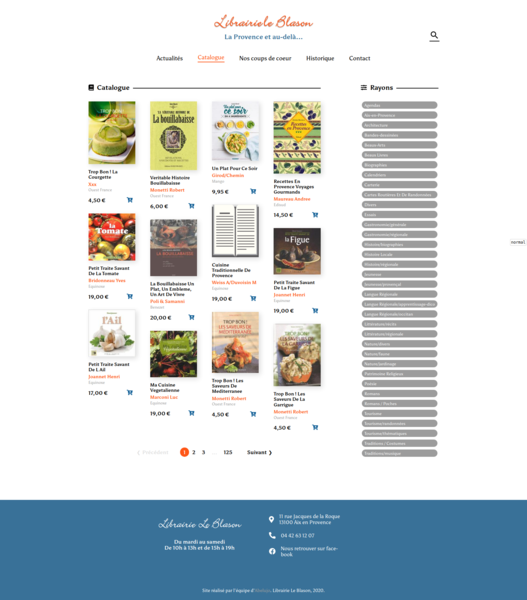 Another very custom website: Technè Bookshop (an online platform specialized in art and architecture).
How much
It depends on what you want. The ready-to-use catalog is cheaper than the full-featured website.